Stretch marks and scar camouflage training was made for those who want to be a part of the change. A change that builds confidence and raises standards in the beauty world. 
Stretch mark camouflage is the only solution for the discoloration of stretch marks and scars. There are many creams claiming to reduce the appearance of stretch marks and scars but do they really work? Well stretch marks are a form of scarring, just like scars. When they form, the elastin and collagen fibers break. This results in loss of cells that produce skin pigment. You can read more about what is stretch mark camouflage here.
So if the fibers are broken, no cream can fix that. The solution to discoloration is camouflage treatment and let us explain how it all began.
HOW EVERYTHING STARTED…
When our CEO Tatjana Damjanović decided to start her own family, she couldn't be happier. Everything was going great. But after she gave birth she started to feel insecure. Weight gain, excess skin and fast stretching of the skin consequently resulted in stretch marks. While time passed by, her red stretch marks healed and became white. So as an experienced beautician she started to search for alternatives to treat her stretch marks. 
It was then that she realized there is no alternative to treat discoloration. As a result, Tatjana and 22 Team started developing a new approach to stretch marks camouflage technique, a pmu one. Back in 2018 camouflage technique was still in the making so it was performed only by some tattoo artists. As a pmu academy we wanted to present a far less painful technique but also the kind that would give natural results without the use of tattoo ink. 
STRETCH MARKS & SCAR CAMOUFLAGE TRAINING BECAME OUR JOURNEY.
We worked really hard to get to the point where we developed our own logic to the treatment, filmed an Online Course and presented it to the market. And let us tell you that the response from the public is amazing!
This treatment is not only a game changer for clients all around the world but also for therapists. Demand creates an offer and the demand for this treatment is huge. 
Undeniably, one of our main advantages is we have our own line of products which we developed specially for stretch mark camouflage treatment and it took us dozens of tests to create it.
You can check our Camouflage line of products here -> shop.22-institute.com/camouflage
WHO IS TATJANA DAMJANOVIĆ?
Tatjana is the Master Trainer of Stretch Mark Camouflage training and the CEO of 22 Institute.
She has over 15 years of experience in the beauty industry and is one of the first ever microbladers. Consequently, she personally certified over 2000 Students in several beauty techniques like Microblading, PMU, Microneedling, etc.
Over the past years she developed over 50 Products which are selling under the 22 Institute brand.
22 Institute products include Microblading and PMU Pigments, accessories for therapists, after care products, …
Tatjana's microblading and pmu pigments have always been an example of quality and transparency when it comes to ingredients. The priority is always the quality, not quantity.
Her professional path includes over 1000 educated students on training in the United States, United Kingdom, Belgium, France, Germany and others.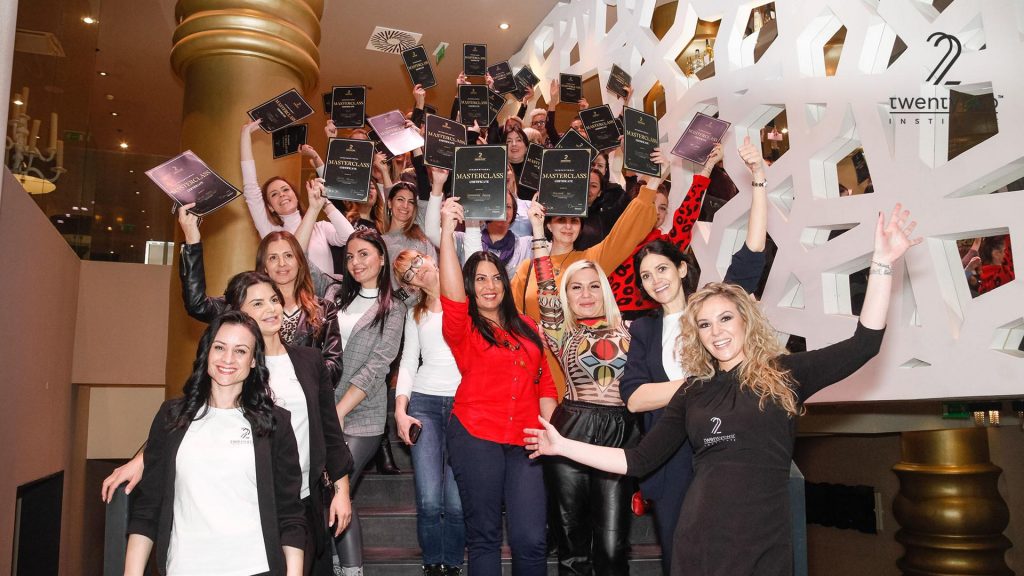 WHY IS OUR ONLINE COURSE THE BEST OPTION FOR YOU?
We welcome you to take the most ANTICIPATED Course of 2020 – Stretch Mark & Scars Camouflage online training. Since it is hard to travel these days we decided to present this technique to the comfort of your own home. Therefore, the course is filmed and produced in a way to be interactive. 
You won't be bored while listening to Tatjana and every section is accompanied with amazing graphics to help you remember important information.
There are 10 sections in the course and we unlock 2 sections every 2 days to keep you focused and to assure you have a quality learning process. Our customer support team is with you every step of the way if you need anything. When you are done with the theoretical part you have to complete the practical part where you will demonstrate your technique performance. You will also complete the blood borne pathogen test on the way. You will feel confident to perform your first model after 10 sections of online lessons. Tatjana will be present over skype or zoom to give important tips and tricks. 
Above all, 22 Institute offers infinite customer support. We believe that your path is ever growing and that's why we can't limit our support to just 3 or 6 months. Therefore, we are here for you as long as you want! Currently we have 4 master trainers who are available for questions and help every day.
You can take a look at the list of all sections from Stretch Marks & Scar Camouflage Online Course down below.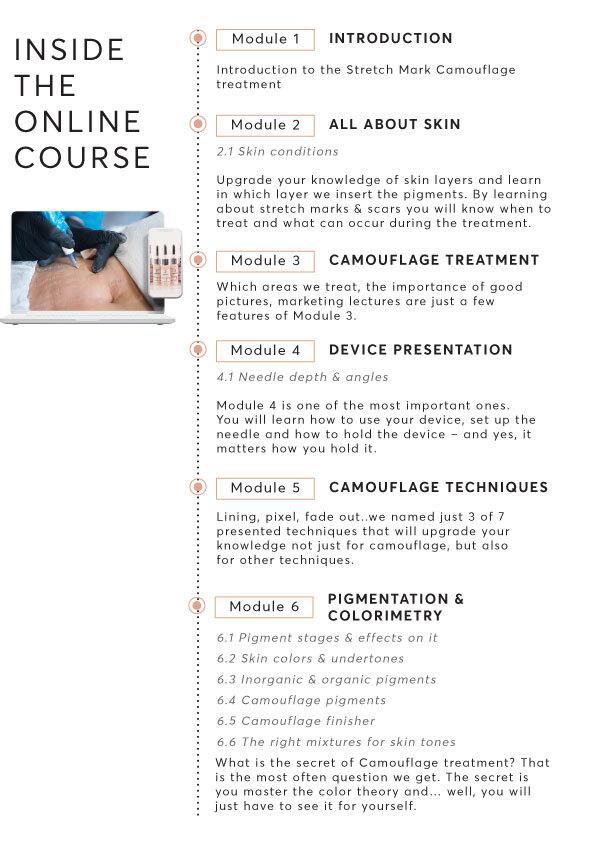 WHY IS TATJANA'S TECHNIQUE UNIQUE?
Our logic behind the stretch marks and scar camouflage treatment is totally different from the others. Other therapists perform a tattoo technique but we perform a pmu technique. To clarify, stretch mark Camouflage by 22 Institute is nothing like a tattoo, except for a similar device.
Everything from the needle selection, type of pigment and the deposit of the pigment is different. This is also the ONLY ACADEMY in the world to teach a simple logic behind the color selection. We do not teach mixing of the pigments like a cake recipe – drop by drop. In short, our master trainers will teach you how to think and most importantly – our pigments will assure you to avoid color mixing.
WHERE CAN I GET MORE INFORMATION ABOUT THE COURSE? (Such as how much do our therapists charge for a treatment, what is included in the online course, etc.?)
In conclusion, we created a FREE TRIAL of our Online Course! You can sign up down below to take a look into our Online Course and to get more information if needed.
SIGN UP here: https://22-institute.com/camouflage-trial
ALSO MAKE SURE TO WATCH THIS VIDEO: